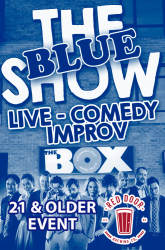 The Box Performance Space and Improv Theatre
THE BLUE SHOW
With Red Door Brewing
Time: 10:15pm Day: Saturday Doors: 9:45pm Ages: 21+ Ages Price: $10
This Event Has Ended
Albuquerque's premier professional improv troupe, The Show, is well-known for entertaining and intelligent comedy. On Friday, August 23, The Show takes its comedy to the dark side for a blue, adults only show. Not too dark, not too light, but somewhere deviously over the appropriate line is where you'll find The Show for this one time performance.
Using audience suggestions and any absurd ideas that cross their minds, improvisers create scenarios and songs that are hilarious and preposterous.
Performance Reviews
"This city needs an ongoing, consistent, reliably funny improv show and The Show is that show."  Summer Olsson | The Alibi
"... leave you wanting more, and if there's one complaint to make about "The Show," it's the cruelly short running time of 45 minutes."  Justino Brokaw | New Mexico Daily Lobo
The Albuquerque Alibi listed The Show as the Best of 2011 and went on to say, "The creation of an improv theater troupe with a regular, ongoing schedule was a notch on our city's cultural belt. "
The Show features improvisers Patrick Gozur, Melissa Heiman, Alex Knight, Fernando Fresquez, Steve Lucero, Lauren Poole, Heather Yeo and Music Director Casey Mraz!